6 Gaming Room Lights Every Gamer Should Have
During quarantine, many individuals have gained free time for themselves. This has resulted in many people finding new hobbies, such as playing video games. But sometimes, playing video games in your living room isn't enough. Any serious gamer should have their own gaming room. Our lights offer a simple and easy way to decorate a gaming room. What are gaming room lights? They are small lights use to brighten up and decorate your room! They elevate your environment, add personality to your decor, set the mood, and create unique decor. Keep reading to find out six gaming room lights that every gamer should have!
Sky lights
Sky lights are beautiful, subtle lights that make your room look like a starry night sky. They are not too bright as to light up your room, but are light enough to offer a soft ambiance. Simply point your projector up to your wall or ceiling. This way, you'll feel as if you're floating in the middle of the galaxy!
Laser lights
Laser lights are perfect for any room. They are energy-efficient but are super powerful! The lights they project are extremely bright and vibrant. This is a great way to brighten up your room with creative colors. 
LED lights
Using LED lights in your gaming room will give off a futuristic techno vibe! They will create a bright lighting effect in your room. You can also play around with the colors to match any room's ambiance and decorations!
Fan lights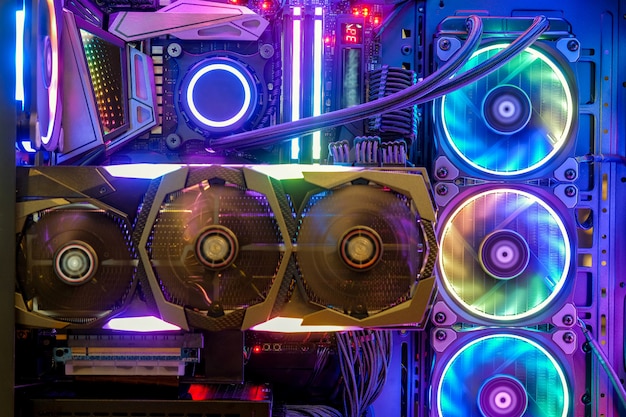 Fan lights have an amazing 2-in-1 purpose. They can be used to brighten up your room with a futuristic vibe, and also provide cooling features to your device. This is especially helpful because devices can quickly heat up while gaming. Keep your devices cool and your room well decorated with these fan lights!
Projection lights
Projector lights are the perfect way to switch up your lighting scheme. The projector itself is small and can be easily placed anywhere in your room, but the lighting it creates is unbeatable! These lights have a lot of variety in terms of style. You can pick any to match your room's decor! You can create a modern setting or a relaxing setting.
Portable lights
Portable lights are great for anyone on the go or looking for something small. These can be plugged into other devices such as your computer to create a bright design in your room. This allows you to point the light wherever you want. It can even follow you around the house!
Click here to start shopping!
---